Beef Bourguignon
Ingredients
Serves:
4
1 1/2kg stewing beef, diced

1 1/2 teaspoons salt

1 teaspoon pepper

125g bacon or pancetta, cut into 1cm pieces

1 tablespoon vegetable oil

2 onions, roughly chopped

3 garlic cloves, finely chopped
3 tablespoons flour

350ml Burgundy or Pinot Noir red wine

350ml chicken stock

2 bay leaves

1 teaspoon thyme

100g eschalots, halved

1 sprig parsley, finely chopped
---
Directions
Preparation:

20

min › Cook:

3

hours › Ready in:

3

hours

20

min
Preheat oven to 120 degrees C.

Place the beef in a large bowl then season with salt and pepper and mix well.

Fry bacon in a large frypan for about 7 minutes over a medium heat. Keep the bacon and the bacon fat separate.

Place an oven safe saucepan or casserole dish on the cooker, set heat to high and heat 2 tablespoons of bacon dripping in it. Sear half of the beef on all sides for about 5 minutes. Remove the beef then heat 2 more tablespoons bacon fat and fry the remaining beef; remove from the saucepan.

Fry the onions in the same saucepan for 4-5 minutes until soft. Add the garlic and fry for another 30 seconds. Stir in the flour then reduce the heat and stir for another 1-2 minutes until the flour is the same colour.

Add the wine and scrape the bottom of the saucepan well so the flavour of the wine can be absorbed. Add stock, bay leaves and thyme then increase the temperature slightly and bring to a simmer.

Add the beef and the bacon and bring to a simmer again but do not let boil. Cover with a lid and place in preheated oven. Cook for 2 to 2 1/2 hours or until the meat is almost fully cooked through.

Heat 1 tablespoon bacon fat in a frying pan and fry the eschalots for 5-10 minutes until they are tender and lightly browned. Don't stir too much to avoid breaking them apart.

When the beef is almost done add the eschalots. Once again cover and cook for another 20-30 minutes in the oven. Stir in parsley. If necessary season to taste again with salt and pepper.
Watch a video of it being made…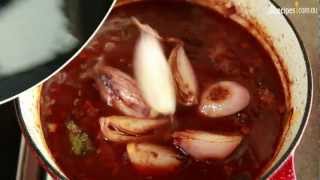 Beef Bourguignon
More Choices
Similar Recipes

Dinner

More Collections
Reviews
(3)
Two of the steps were out of order. It's been fixed now, thanks! - 25 Jun 2012
Seems you missed a few steps. I would have been up that proverbial creek without the video or the paddle. - 23 Jun 2012
The way this recipe is printed is awful. Nowhere does it tell you when to add the beef or put it in the oven. If you try and make it from the print version you will send out for pizza and eat it the next day. Aren't these recipes checked ? I'll let you know how it tastes later, gotta find a delivery menu !!! - 23 Jun 2012
Write a review
Tell others what you thought of this recipe!