Chicken and Veggie Pie
Ingredients
Serves:
8
2 sheets frozen shortcrust pastry, thawed

60g butter

1 small onion, minced

2 sticks celery, chopped

2 carrots, diced

salt and pepper to taste

2 chicken stock cubes
2 cups (500ml) water

3 potatoes, peeled and cubed

3 tablespoons plain flour

225g cooked chicken, cubed

1/2 cup (125ml) full fat milk

3 tablespoons chopped fresh parsley

1 teaspoon chopped fresh oregano
---
Directions
Preparation:

20

min › Cook:

1

hour › Ready in:

1

hour

20

min
Preheat oven to 220 degrees C. Roll out one piece of pastry and place in a greased 20cm pie dish and set aside.

Place 1/2 of the butter in a large frying pan. Add the onion, celery, carrots, salt and pepper. Cook and stir until the vegetables are soft. Stir in the water and stock cubes, bring mixture to the boil, then add in the potatoes, and cook until tender but still firm.

In a medium saucepan, melt the remaining butter. Stir in the chicken and flour. Add the milk and heat through. Stir the chicken mixture into the vegetable mixture and cook until thickened. Add fresh herbs. Pour mixture into the unbaked pastry case. Roll out the top piece of pastry and place on top of pie. Flute edges and make 4 slits in the top to let out steam.

Bake in the preheated oven for 15 minutes. Reduce oven temperature to 180 degrees C and continue baking for 20 minutes, or until pastry is golden brown.
Recipe videos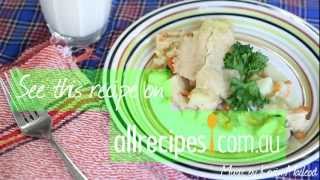 Chicken Pie
More Choices
Similar Recipes

Dinner

More Collections
Reviews
(8)
Delicious - i left out the celery as my partner hates it.. would be nice with corn in too! - 29 Jul 2010
This was a really easy recipe, I used left over chicken and processed it in the food processor with an onion, then added roasted sweet potato left over from Christmas on top of the mixture and puff pastry on the top! - 27 Dec 2012
Yummy. I make it with half the amount of veg for 2 people. Variation: fry the chicken with a tablespoon or two of curry powder, nice n spicy. - 09 Aug 2013
Write a review
Tell others what you thought of this recipe!