Barbecued Portobello Mushrooms
Ingredients
Serves:
3
3 portobello mushrooms

4 tablespoons olive oil

1/2 onion, chopped

4 cloves garlic, minced

4 tablespoons balsamic vinegar

1 spring fresh rosemary, chopped (optional)
---
Directions
Preparation:

10

min › Cook:

10

min › Extra time:

1

hour marinating › Ready in:

1

hour

20

min
Clean mushrooms and remove stems, reserve for other use. Place caps on a plate with the gills up.

In a small bowl, combine the oil, onion, garlic, optional rosemary and vinegar. Pour mixture evenly over the mushroom caps and let stand for 1 hour.

Preheat barbecue for medium high heat. Tip out the marinade from the mushrooms and rub it over all surfaces of the mushrooms. Barbecue mushrooms for 10 minutes, turning frequently. Serve immediately.
Recipe videos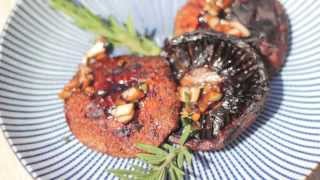 Barbecued Portabella Mushrooms
More Choices
Similar Recipes

Dinner

More Collections
Reviews
(4)
Used different ingredients. Added blue cheese and cooked in tinfoil - 06 Nov 2008
Yummy. After marinating, add a teaspoon size of blue cheese to the top and wrap each mushroom in tinfoil before adding to the bbq for approx 20 mins. Sublime. - 06 Nov 2008
Really delicious and easy but next time I will 1/2 the balsamic vinegar and put a small amount of fresh chilli. - 13 May 2012
Write a review
Tell others what you thought of this recipe!