!– Oracle Maxymiser Script Start --> <!– Oracle Maxymiser Script End -->
< />

< />

< />

< />

< />

< />

< />
Maple Roasted Brussels Sprouts with Bacon
Brussels sprouts are roasted with bacon and maple syrup for a smokey, caramelised side dish.
Ingredients
Serves:
6
450g Brussels sprouts, trimmed

60ml extra-virgin olive oil

3 tablespoons pure maple syrup

4 rashers streaky bacon, cut into 2cm pieces

1/2 teaspoon salt

1/4 teaspoon freshly ground black pepper
---
Directions
Preparation:

10

min

› Cook:

45

min

› Ready in:

55

min
Preheat oven to 200 degrees C.

Place Brussels sprouts in a single layer in a baking dish. Drizzle with olive oil and maple syrup then toss to coat. Sprinkle with bacon; season with salt and black pepper.

Roast in the preheated oven until bacon is crispy and Brussels sprouts are caramelised, 45 minutes, stirring halfway through.
Watch a video of it being made…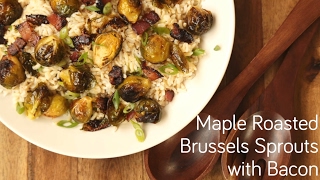 How to Make Maple Roasted Brussels Sprouts with Bacon
Reviews and Ratings
Global Ratings:
(120)
Reviews in English (101)
These little sprouts have endless options! - 11 Jan 2017
I have made this a handful of times and it's always been a big hit. I do make a few adjustments though; first I pre-cook the bacon until it's about half done, I don't like mushy sprouts and that's what you get in order for the bacon to crisp up. Next I pour the bacon, any grease from the pre-cooking, the syrup, sprouts and s&p in a bowl and mix it all up, then I add just enough olive oil to coat usually only a couple of tablespoons is needed. I definitely line my baking sheet with foil because the syrup really gets sticky and I cook at 400 for only about 20 minutes. These small adjustments make it perfect every single time. - 20 Apr 2014 (Review from Allrecipes USA and Canada)
We love brussel sprouts but I had some issues with this recipe. First of all the 40 minutes at 400 degrees is WAY to long. You end up burning the syrup. Next time I will half them and they should be done in about 15 minutes (the minimum time I think you need for the bacon to cook) I took mine out way before the 40 minutes and they where whole and they were cooked through to tender. I would also just put the olive oil to coat maybe several tablespoons 1/4 of a cup is a lot especially with the bacon rendering out fat. Make sure you line your pan with foil or you will need a jack knife to clean your pan. I would be willing to try this again with these modifications. - 17 Dec 2012 (Review from Allrecipes USA and Canada)
Global Reviews
Write a review
Click on stars to rate