!– Oracle Maxymiser Script Start --> <!– Oracle Maxymiser Script End -->
< />
Armenian Shish Kebab
Being of Armenian origin myself, I have grown up with this food for years and would like to share it with those who are not familiar with Armenian cuisine.
Ingredients
Serves:
4
2 diced onions

1 tablespoons oregano

1/2 tablespoon black pepper

1 tablespoon tomato paste

1 tablespoon crushed garlic

1/2 handful chopped parsley
1/2 cup vegetable oil

1/2 cup pomegranate juice

1 tablespoon sweet paprika

2 tablespoons dry wine (optional)

2 tablespoons lime juice

2kg diced lamb leg or lamb shoulder
---
Directions
Preparation:

15

min

› Cook:

15

min

› Extra time:

4

hours

marinating › Ready in:

4

hours

30

min
Simply mix all the ingredients except the meat in one bowl so its evenly combined.

Then add the meat and mix again until all the meat is evenly coated with the marinade.

Refrigerate for at least 4 hours or over night if you are able to.

Thread onto skewers and place on the grill, if using an open grill, ensure to constantly turn the skewer to reduce charring on the meat.

Goes perfect with rice, bread or salad.
See it on my blog
Watch a video of it being made…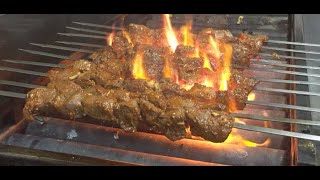 Watch the video here
Reviews and Ratings
Global Ratings:
(0)
Reviews in English (0)
Write a review
Click on stars to rate