!– Oracle Maxymiser Script Start --> <!– Oracle Maxymiser Script End -->
< />
KFC Original Recipe Tenders (Copycat)
KFC Original Recipe Tenders (Copycat)
Imagine being able to have fresh KFC original recipe tenders every time? Now you can by making them yourself in less than 30 minutes!
Ingredients
Serves:
4
1 tablspoon dry basil leaves

1 teaspoon thyme

1 teaspoon ground chilli

1 teaspoon ground coriander

1 egg

1/2 cup milk
---
Directions
Preparation:

15

min

› Cook:

15

min

› Ready in:

30

min
Clean breast fillets and slice thinly into strips.

In a bowl, add the flour then mix in all the herbs and spices.

In a separate bowl, make the egg-wash by mixing the egg with milk and whisking.

Preheat a deep fryer to 170 degrees C.

Bread chicken by firstly dipping each slice into flour mixture, then into egg wash, then into flour mixture, then repeat once more.

Fry strips in the deep fryer for 2-3 minutes until golden brown, do not over crowd the basket as the strips will stick together and not cook evenly.
See it on my blog
Watch a video of it being made…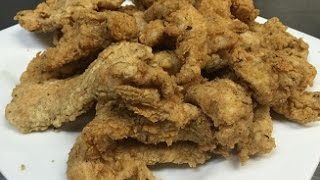 Watch the video here
Reviews and Ratings
Global Ratings:
(0)
Reviews in English (0)
Write a review
Click on stars to rate