!– Oracle Maxymiser Script Start --> <!– Oracle Maxymiser Script End -->
Fluffy American Pancakes
Fluffy American Pancakes
Directions
Preparation:

10

min

› Cook:

10

min

› Ready in:

20

min
Sift together the flour, baking powder, salt and sugar. Make a well in the centre and pour in the egg, milk and melted butter. Beat well with an electric mixer until blended and smooth.

Grease a pan well with oil or butter and heat. Ladle in the pancake batter and cook until bubbles appear, then turn with a spatula. Cook until browned on the reverse side as well.

Serve with toppings such as butter, maple syrup and fresh berries.
Watch a video of it being made…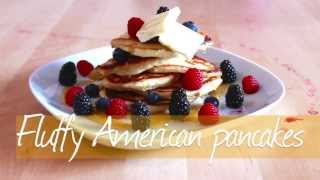 Watch the Video!
Reviews and Ratings
Global Ratings:
(118)
Reviews in English (18)
the taste was fine, but these pancakes were not at all fluffy. I don't think I've ever had a flatter pancake. I was very disappointed with this recipe. :-( - 22 Dec 2016
Yummy - 15 Jan 2014
Global Reviews
Write a review
Click on stars to rate