!– Oracle Maxymiser Script Start --> <!– Oracle Maxymiser Script End -->
< />
Crispy Zucchini Fritters
Crispy Zucchini Fritters
Ingredients
Serves:
4
500g zucchini, grated

1 bunch fresh dill, chopped

6 spring onions, chopped

salt to taste

1 egg

2 tablespoons plain flour

1 clove garlic, minced

2 tablespoons vegetable oil, for frying
---
Directions
Preparation:

10

min

› Cook:

15

min

› Ready in:

25

min
Combine the zucchini, dill and spring onion. Add salt to taste. Stir well. Stir in the egg till well combined, then stir in the flour. Finally, stir in the garlic.

Heat a large frying pan over medium high heat. Add vegetable oil. When the oil is hot, spoon a tablespoon of the mixture into the pan for each fritter. Cook until browned on one side, about 3 minutes, then flip and cook till browned on the other side and cooked through.
Watch a video of it being made…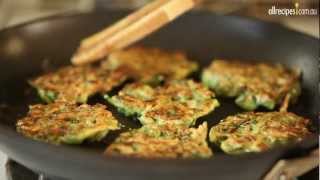 Crispy Zucchini Fritters
Reviews and Ratings
Global Ratings:
(17)
Reviews in English (12)
I found this recipe on you tube and had to make it. I followed all the steps and it came out beautifully. Here is a picture of mine, I had it with cucumber, tomatoes and breaded fillet with some sweet sauce.You can have this with pretty much anything! - 19 Jul 2013 (Review from Allrecipes UK & Ireland)
I really liked this one! I didn't fry the fritters in oil and they still tasted pretty delicious! Even the 3-year old and 5-year old liked it. I was a little nervous about the spring onions being too spicy, but they were just fine. - 12 Jun 2016 (Review from Allrecipes USA and Canada)
Global Reviews
Write a review
Click on stars to rate