Spicy Apple and Tomato Chutney
Ingredients
Serves:
8
1 kg apples, peeled and sliced

1 kg tomatoes, sliced

2 large onions, chopped

85g sultanas

1 tablespoon yellow mustard seeds

140g sugar
450ml water

1 teaspoon cayenne pepper

4 teaspoons salt

2 1/2 dessertspoons curry powder

1 clove garlic, minced

560ml malt vinegar
---
Directions
Preparation:

30

min › Cook:

3

hours › Ready in:

3

hours

30

min
Place apples and water in a large saucepan. Bring to the boil, reduce heat and cook 25 minutes, or until apples are tender, stirring occasionally. Add more water as necessary to keep the apples simmering.

Wrap mustard seeds in muslin or cheesecloth and place with apples. Add onion, tomatoes, curry powder, cayenne pepper, salt, sugar, sultanas, garlic and vinegar in with the apples. Stir until sugar has dissolved.

Bring the mixture to the boil. Reduce heat, and simmer 3 hours, stirring occasionally, until a thick chutney remains. Remove and discard wrapped mustard seed. Seal chutney in sterile containers until serving.
Watch a video of it being made…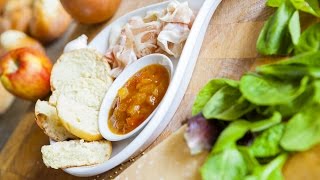 Apple and Tomato Chutney
More Choices
Similar Recipes

Chutney

More Collections
Reviews
(1)
This chutney is delicious! I halved the ingredients to make a smaller batch. I would also suggest taking the trouble to peel the tomatoes. - 17 Aug 2012
Write a review
Tell others what you thought of this recipe!