Classic Italian Tiramisu
Ingredients
Serves:
4
6 eggs, whites and yolks separated

3 tablespoons sugar

500g mascarpone cheese

50ml cognac or brandy

350ml black coffee

4 tablespoons cocoa, plus extra for dusting

30 sponge fingers
---
Directions
Preparation:

30

min › Extra time:

4

hours chilling › Ready in:

4

hours

30

min
In a bowl, beat the egg yolks and the sugar together until creamy white. Add the mascarpone cheese and half of the cognac or brandy and beat until well blended.

In a separate bowl, beat the egg whites until stiff and fluffy then fold into the mascarpone mixture, mixing only enough to blend.

In a shallow dish, mix the coffee, remaining cognac or brandy and 4 tablespoons cocoa. Quickly dip the sponge fingers in the coffee mixture and create a layer of biscuits in a serving dish.

Spread half of the mascarpone mixture over the layer of sponge fingers then dust with cocoa. Repeat with another layer of sponge fingers, the rest of the mascarpone and a final dusting of cocoa.

Chill for at least 4 hours, then serve!
Watch a video of it being made…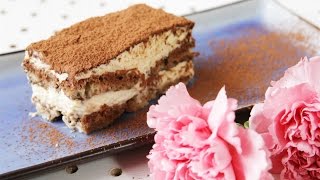 Classic Italian Tiramisu
More Choices
Similar Recipes

Dessert

Italian Recipes

More Collections
Reviews
(0)
Write a review
Tell others what you thought of this recipe!