Devilled Eggs
Ingredients
Serves:
6
6 eggs

1/2 teaspoon paprika

2 tablespoons mayonnaise

1/2 teaspoon mustard powder
---
Directions
Preparation:

5

min › Cook:

10

min › Ready in:

15

min
Place eggs in a pot of salted water. Bring the water to the boil and let eggs cook in boiling water until they are hard boiled, approximately 10 to 15 minutes. Drain eggs and let cool.

Peel eggs and cut in half lengthwise. Remove the yolks and mash them together in a small bowl. Add the paprika, mayonnaise and mustard powder and mix well. Spoon mixture back into the egg whites. Chill and serve.
Watch a video of it being made…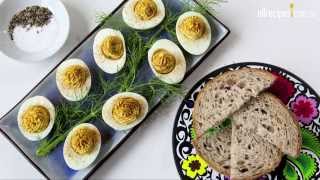 Deviled Eggs, Three Ways
More Choices
Similar Recipes

Vegetarian

More Collections
Reviews
(8)
by Beezie
Altered ingredient amounts. This is a nice basic recipe. I recommend a little more mayonnaise be used and a little minced sweet pickle (to taste) be added. As for the cooking method, there's a easier way. Place the eggs in a pan and cover with at least an inch or more of cold water. Bring to a full rolling boil, remove from heat, let sit for 15 minutes, drain, and cover with ice water until thoroughly chilled. This will eliminate the ugly green/blue ring around the yolk. Proceed with the recipe. - 08 Oct 2008
Altered ingredient amounts. Good recipe but I altered it a bit.I added a sprinkle of onion salt ans a shake of chili powder along with the other ingredients.They were all eaten and requested again and again. - 09 Apr 2009
I have always made Deviled Eggs using cream or mayonnaise,Curry powder and salt and pepper and sprinkling Paprika on top as a garnish along with a piece of Parsley. I find the curry powder gives more zing to the egg mix. - 18 Sep 2011
Write a review
Tell others what you thought of this recipe!